WHAT to BRING
Boat shoes or sneakers
Camera
Refreshments such as water, juice soft drinks, snacks
Sun lotions and sun screens
Layer clothing and a windbreaker for cooler days
Light protective clothing for the hotter days
Any special medications you may need (Please inform our Captain of any special medical conditions before our sail)

Bring only what you need for about 2 hours.

Don't forget the sun lotions and sun screens

No smoking anything!

Evening may require a light jacket or windbreaker.

Don't forget a camera!


SUGGESTED ITEMS:
You should wear wind proof clothing such as a windbreaker. On the cooler days, layered clothing is always better than one thick jacket. You can peel away some when you feel too warm.
On hotter days, protect yourself from the sun. Suntan lotions and screens are a must. A hat, with a tie, light natural fiber clothing also helps. We are on a sailboat, so the wind can blow items overboard. Hats, unsecured clothing and even sunglass can blow right off your head. Keep all items of value in the cockpit or the cabin of the boat at all times. The wind and the sea seem to conspire to grab all they can. Once an item goes over it is impossible to retrieve it. Be prepared for a possible small spray or splash of water.
Boat shoes or sneakers must be worn. They help to prevent slipping on the deck and cockpit and marring its finish.
Bring any medications you may need for the trip. Inform us and our Captain of any special needs.
NO DRUGS OR EXCESSIVE ALCOHOL. Alcohol is only permitted for those of legal drinking age.
Click here for photos of the interior of Sea Fever.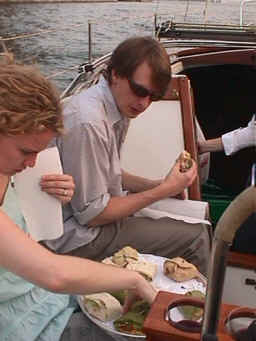 Some guests enjoying our "Captain's Platter" wraps by Frankie Bruno's famous "Mr. Wraps" of Hoboken.
You are welcome to bring any snacks or refreshments. We are limited only to 6 guests so if you do bring along a little special treat we do encourage to share in true sailing spirit. Our boats are equipped with a working galley and bathroom.

We also offer our several food options.
Our Sea Snack option which includes soft drinks & assorted individually bagged snacks such as potato chips, pretzels etc.
Our Steamed Shrimp which includes a generous helping of fresh steamed shrimp and premium cocktail sauce. This also includes the above Sea Snack option.
"Captain's Platter" for our "Fill the Boat" guests only. It is a generous assortment of delicious homemade wraps by Frankie Bruno's famous "Mr. Wraps" of Hoboken. Please call or email and ask about it.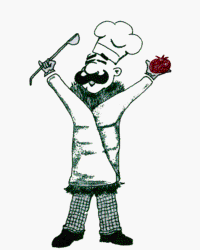 Why not make a day of it!
---
---
Enjoy your sail!